Dive deep into your Acro, handstands and movement practice with experienced teachers Lucie Beyer (Germany) and Marek Petráček (Czechia). It's always this time of the year close to Christmass, when we deserve some time for ourselves, moving, playing and getting some new inspiration!
Morning breathwork & Movement Flow sessions will prepare your body and mind for the days full of acroyoga, handstands and fun. In the evening we will nourish our bodies with thai massage. In acro you can expect beautiful fun flows with pops, standing sequences and more. Beautiful venue close to Prague will offer us all the comfort we need. Plus there is also a sauna, so you can relax and chill after sessions!
Together we can offer 20+ years of practising and teaching acroyoga. We are happy to offer this retreat for all levels from beginners to intermediate/advanced since we are very comfortable and skilled with teaching different levels. And in a small group of maximum 16 students it's easier to keep an individual approach to everyone.
This retreat will be taught in English.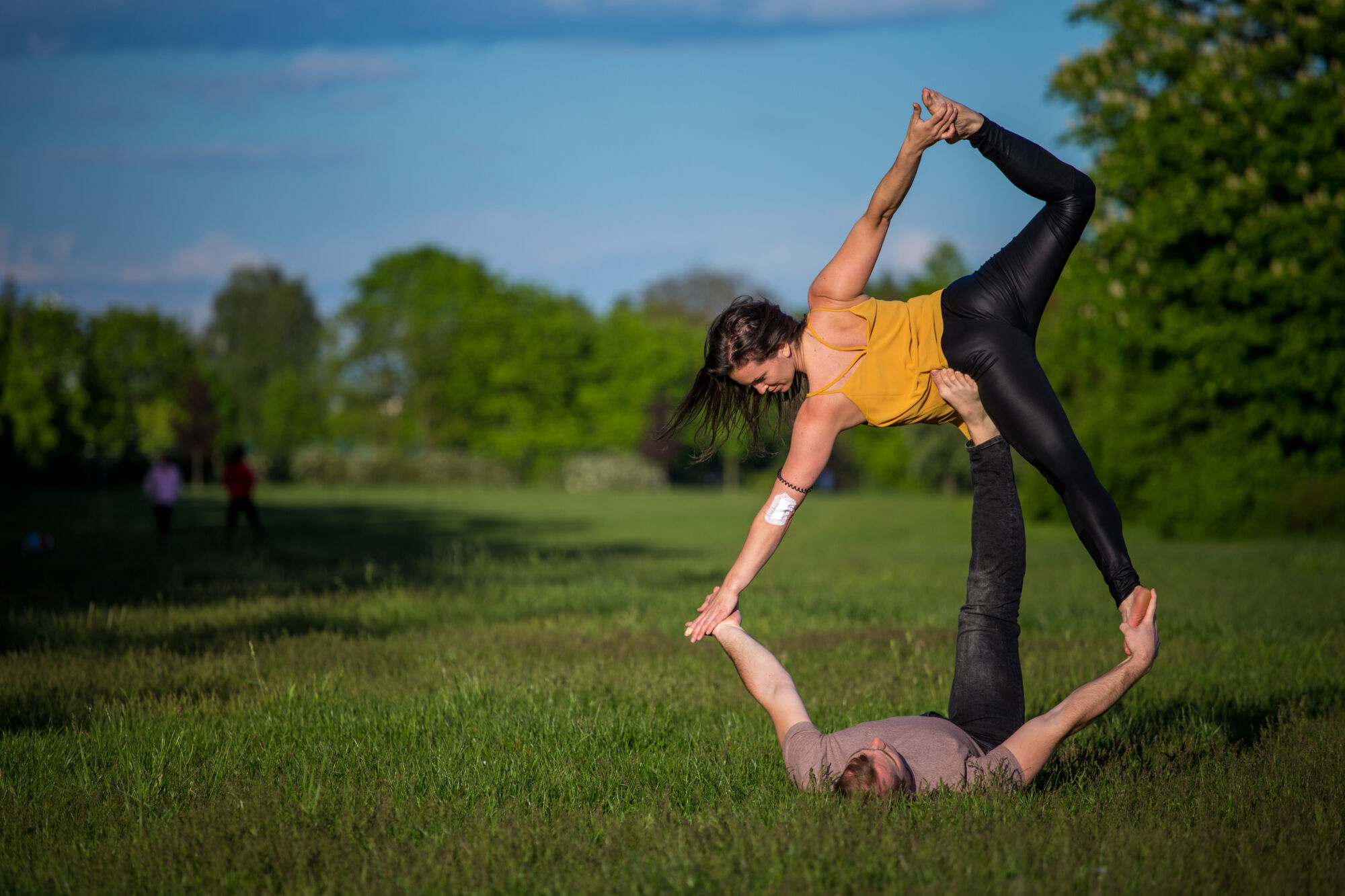 You can check the venue and how it looks during acro weekends on this video from Marek's previous retreat.
Get a feeling of what you can expect from us 🙂 From our training in the mountains!
Friday 19. 11. 2021
from 15:00 arrival, accomodation

16:30 - 19:00 AcroJam with teachers  

19:00 dinner

20:30 - 22:00 Thai massage
Saturday 20. 11. 2021
8:00 - 9:00 Breathwork & Movement Flow
9:00 breakfast
10:00 - 12:00 Handstands
12:30 lunch + free time
16:00 - 19:00 AcroYoga
19:00 dinner
20:00 - 21:30 Thai massage
Sunday 21. 11. 2021
7:00 - 8:00 Breathwork & Movement Flow
8:00 breakfast
9:00 - 12:00 AcroYoga
12:00 lunch, end of the retreat
Retreat takes place at an amazing venue called "Open space" close to Prague, next to Slaný. It's about 40 mins drive from Prague (even closer from airport). The venue offers a large bright practice hall with a high ceiling. Rooms are for 2 - 5 people and most of them have their own bathroom. If it's nice weather, we can practice outside in a beautiful garden. You can use a sauna anytime. You will get 3 delicious vegetarian or vegan meals per day (friday dinner - sunday lunch).
This retreat offers a unique possibility to dive deep into your body and mind, and discover your potential. We are so excited to offer you this amazing experience that will enrich your practice.
This retreat will change your perspective!
Venue

Open Space, Trpoměchy 29, Slaný, Czech republic

Teachers

Lucie Beyer & Marek Petráček

Investment

260 Euro / 6500 CZK (includes all sessions, accomodation, 3 meals a day, sauna; doesn't include transportation)

Capacity

16 students, taken 11

Transportation

On your own. If you are looking for a drive or can offer a seat in your car, let us know in the registration. We will try to arrange transportation for everybody. In the worst case scenario there is a good bus connection from Prague to Slaný, and there we can pick you up - it's just a few kilometres. It's also possible to pick you up at the airport.
Payment: You can send the whole payment or the deposit 140 Euro (3500 CZK). That will secure your spot for the event. Send the payment to the account, IBAN: CZ5561000000001024925133. Variable symbol 1911 and your name in the message. Or you can send the payment to paypal marek.petracek8@gmail.com.
Cancellation terms: If you cancel more than 20 days before the event, we will refund you the whole amount -12 Euro (300 CZK) cancellation fee. If you cancel less than 20 days before the event, there is no refund possible. But you can transfer your payment to another person.
If the event is cancelled because of covid situation, you will get a full refund.
About Lucie Beyer
Based near Munich, Lucie is teaching Workshops, Trainings and Retreats.
As an international Yoga & AcroYoga teacher as well as a mentor and passionate bodyworker, she works with a playful approach which is at the same time deeply rooted in the ancient wisdom of the traditions. Her work is based on the appreciation for a healthful, trusting togetherness everyone can develop their own potential from.
"I love to create a magic space, where people come together to celebrate life and honor the beauty in all its abundant ways. The awareness of us being all one is more important than ever."
Lucie is amongst other events co-organizing the German AcroYoga Festival German Kula Celebration & the Yogagang Festival.
She runs her own Yoga & Movement Studio Freiraum Füssen in Bavaria, South Germany.
In November 2020 she published her book "Handstand Training". Get your copy here!   
With hand to hand & heart to heart  ♡
Lucie
About Marek Petráček
Marek has done two AcroYoga teacher trainings (AY International and AY Montreal), two yoga teacher trainings (power, ashtanga vinyasa), studied yoga and thai massage in India. Along side teaching acro, he has been developing handstand and movement practice, in order to keep his body in balance.
He believes the movement is neccessary part of our lives. He finished full 3 levels of Movement Flow certification with Slava Goloubov and is now an official teacher. He is trying to use his experience to meet the needs of each student, as each body is different and unique, therefore needs specific approach. His journey is not only about teaching, but primarily about being a student and practitioner. 
He is based in Prague, teaching regular classes, intensives and retreats.