We have prepared amazing and packed retreat full of AcroYoga, handstands and movement. During these 4 days you will be taken care of by 4 teachers, so you will have lot of individual approach.
In AcroYoga we will focus on pops, whips and nice standing flows. Retreat is suitable for all levels - beginners to intermediate/advanced. We can easily modify and offer you easier or harder skills, so you will always have suitable material to practice. To beginners we will offer basic poses and transitions, to more advanced harder pops, whips and standing acro, where is always something to train 🙂
We will also dive into Movement Flow practice. We will teach you moves from floorwork, soft acrobatics (cartwheels, kicks, macaco if you want), rolls etc. Again everything can be modified so you don't have to have any previous experience, only prerequisite is having body.
If you want to get better at handstands, you will get a chance to practice them a lot. How to get there safely, how to use the wall, how to prepare the body and also how to still enjoy this beautiful practice and deal with frustration. You will get lot of tips for beginners and advanced handstanders who can already do handstand in free space.
For those who want, you can join morning breathwork and meditation sessions where we will prepare our bodies and minds for the whole day. In the evenings you can relax during thai massage. How to work with your deep stabilizing system, how to use your diaphragm and how to implement that in movement and acroyoga - all of that will Gabi show you during 2 mini workshops.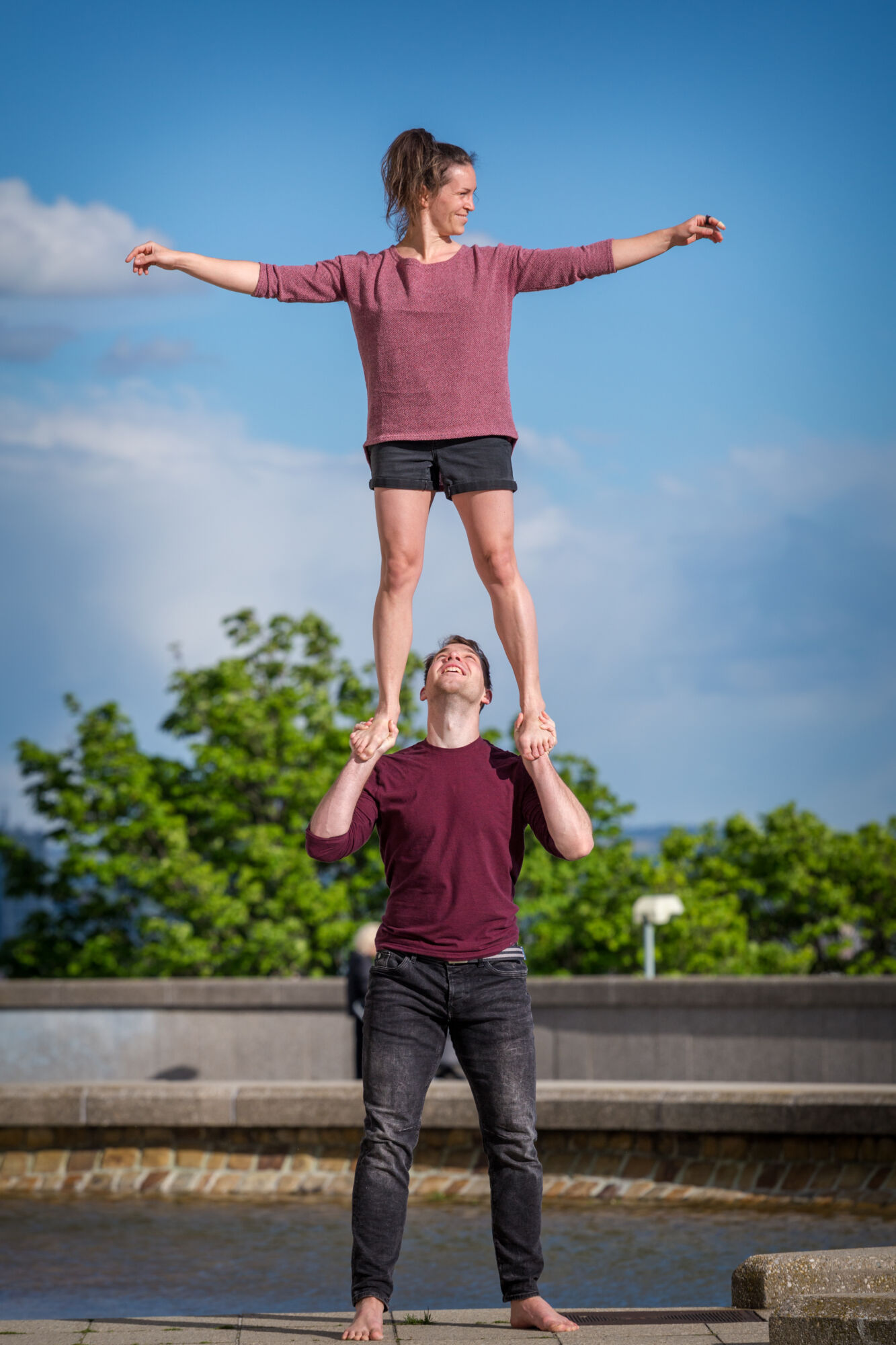 Thursday 26. 5. 2022
From 10:00 arrival, accomodation
11:00 - 13:00 Movement Flow + Handstands
13:00 lunch
16:30 - 19:00 AcroYoga
19:00 dinner
19:00 acro jam/ sauna/ free time
Friday & Saturday 27.-28. 5. 2022
8:00 Breathwork + meditation
9:00 breakfast
10:00 - 11:00 Deep stabilizing system workshop
11:00 - 12:30 Movement Flow + Handstands
12:30 lunch
16:30 - 19:00 AcroYoga
19:00 dinner
20:00 - 21:00 thai massage
21:00 and on, sauna/ free time
Sunday 29. 5. 2022
8:00 Breathwork + meditation
9:00 breakfast
10:00 - 12:30 AcroYoga
12:30 lunch, end of the retreat
Join us for amazing experience!
Retreat takes place at an amazing venue called "Open space" close to Prague, next to Slaný. It's about 40 mins drive from Prague (even closer from airport). The venue offers a large bright practice hall with a high ceiling. Rooms are for 2 - 5 people and most of them have their own bathroom. If it's nice weather, we can practice outside in a beautiful garden. You can use a sauna anytime (100 CZK per person). You will get 3 delicious vegetarian or vegan meals per day (thursday lunch - sunday lunch).
This retreat offers a unique possibility to dive deep into your body and mind, and discover your potential. We are so excited to offer you this amazing experience that will enrich your practice.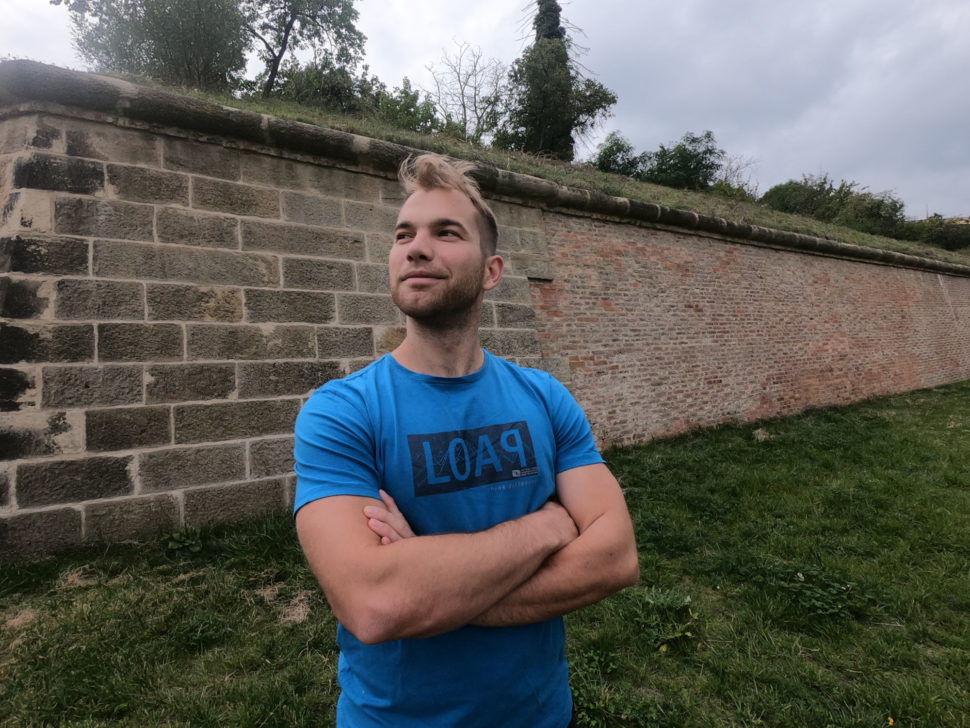 Marek Petráček
Marek is the person who helped a lot to spread AcroYoga in Czech in the beginning from 2012 on. He is the founder of AcroProject brand. In acro he loves to explore and create new creative flows, base hand to hands and throws people in the air. He is also among few Movement Flow teachers in the world and he will guide you through this system. Together with Michal he will share his handstands experience. In the mornings he will offer breathwork and meditation.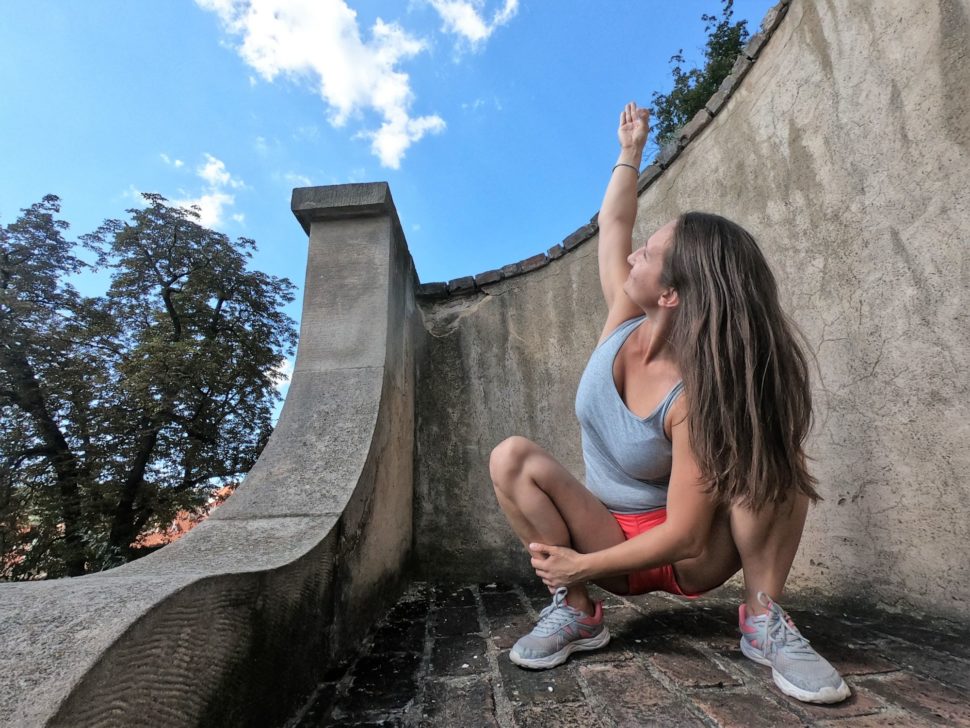 Gábina Havejová
Gabča is certified yoga and acroyoga teacher. Thanks to her focus and studies she can offer you her tips and knowledge of human body. She is now studying a DNS method by professor Kolář. This concept of Dynamic neuromuscular stabilization is based on developmental kinesiology. Poses and movements that babies do in first 2 years are used here. She works as ergotherapist at neurorehabilitation center and loves chocolate.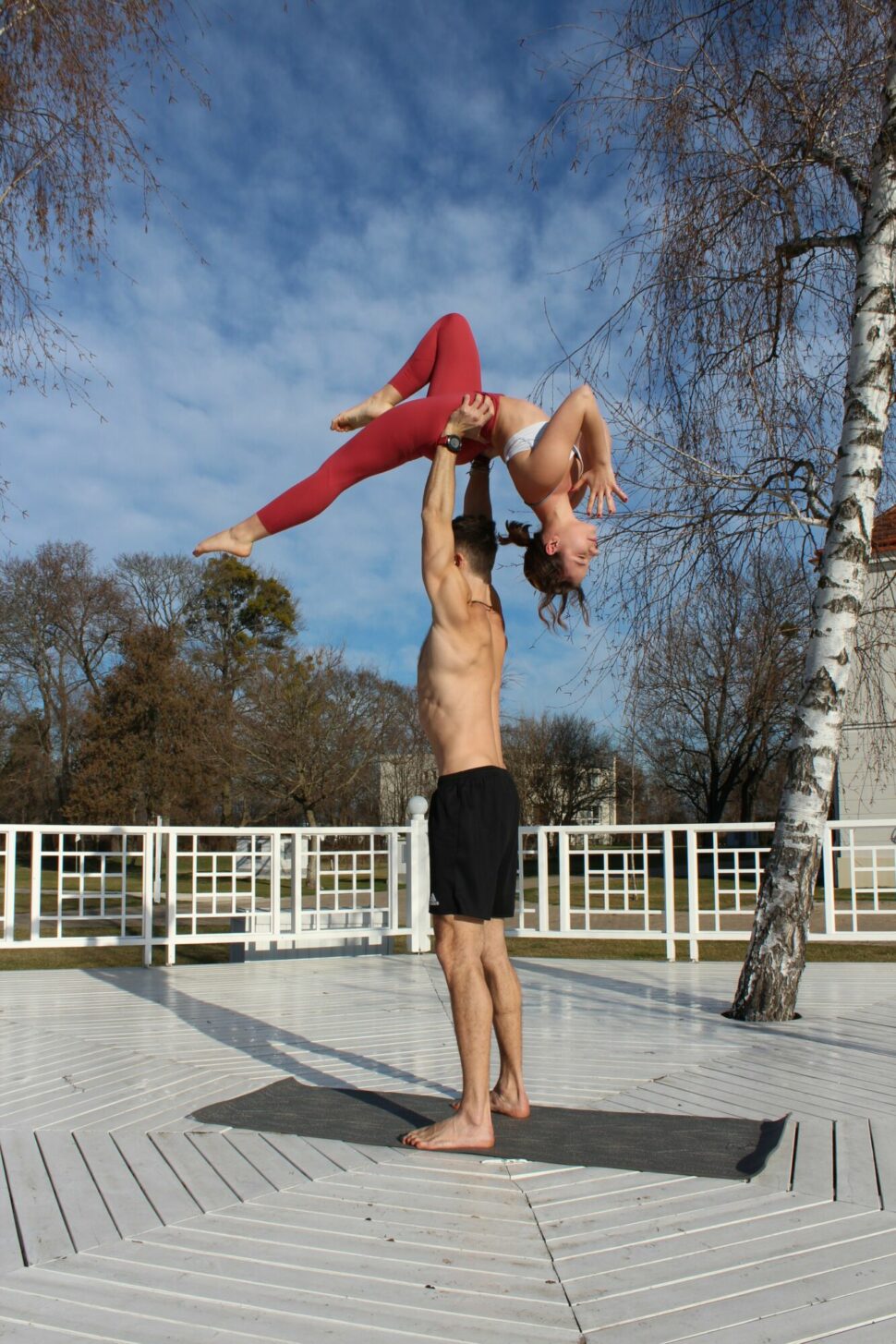 Michal Štefanka
Michal is talented base, experienced handstander and fitness trainer. He studied Faculty of physical education and sports. As a complimentary activity he does climbing. In Bratislava he leads classes of AcroYoga, handstands, strenght training and flexibility. With Sára they love to create beautiful acro flows, their speciality are whips and pops.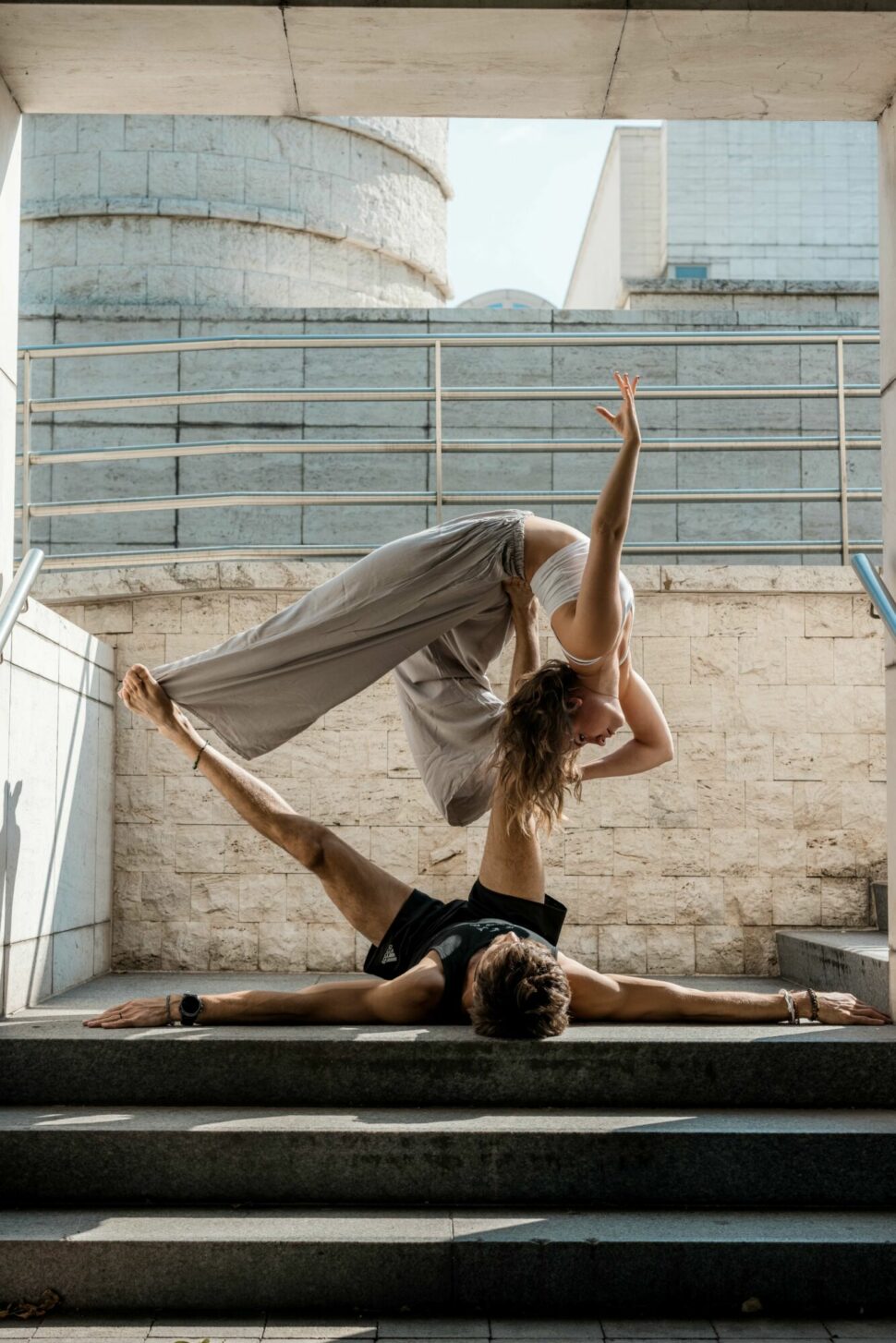 Sára Maar
Sára is the flyer part of MiSaris acro. She flies fearlessly through the air especially during icarians and whips. She has inhuman flexibility which helps her with lot of difficult transitions and poses. With Michal they train and teach in Bratislava. Among other qualities she has unique sense of humour. She studies physiotherapy.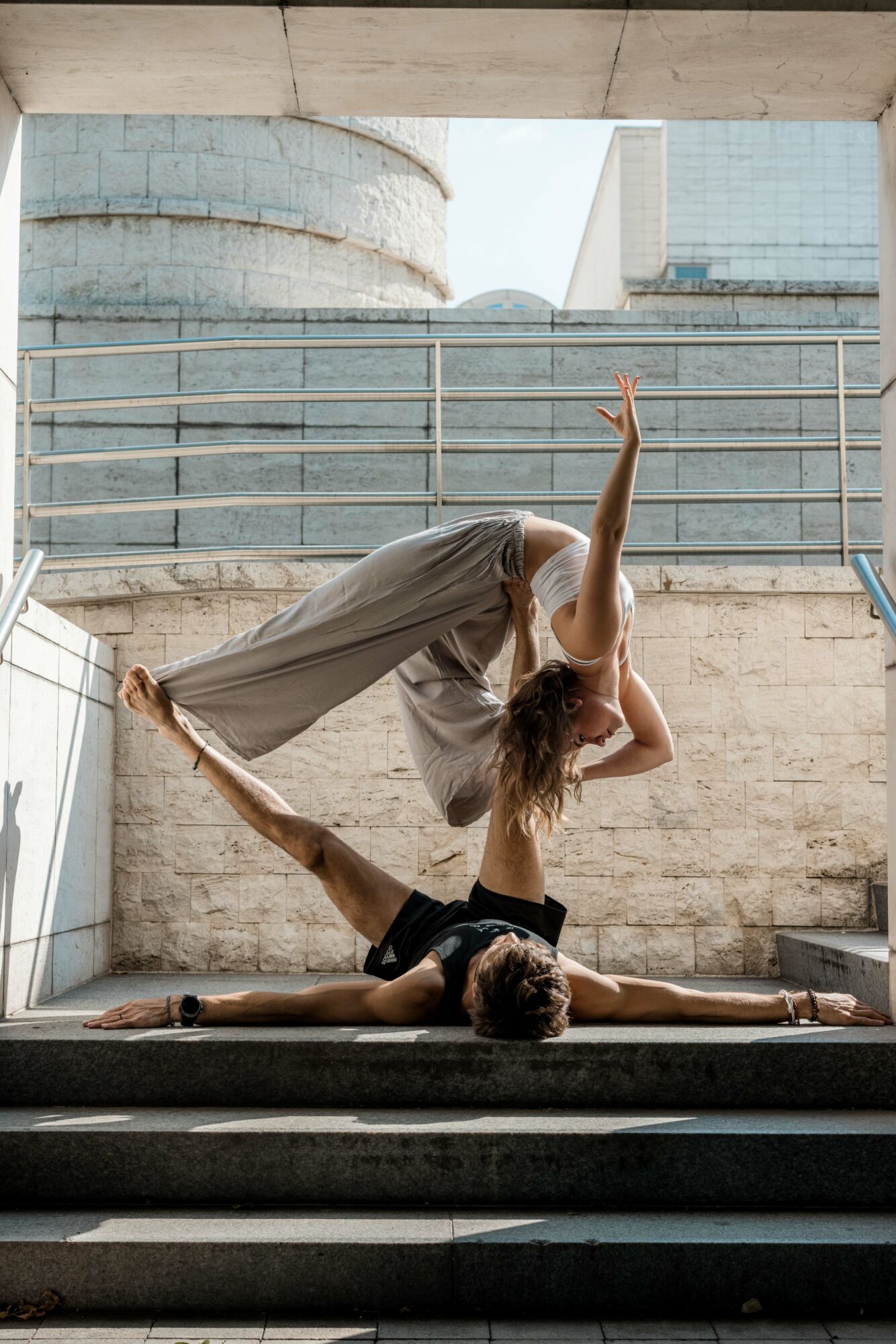 Venue

Open space, Trpoměchy 29, Slaný, Czech republic

Teachers

Marek Petráček, Gábina Havejová, Michal Štefanka and Sára Maar

Investment

180 Euro (4400 CZK) for full program. Plus 100 Euro (2450 CZK) for food 3 meals a day, and accommodation paid at arrival.

Capacity

16 students (5 spots left)

Transportation

On your own. If you are looking for a drive or can offer a seat in your car, let us know in the registration. We will try to arrange transportation for everybody. In the worst case scenario there is a good bus connection from Prague to Slaný, and there we can pick you up - it's just a few kilometres. It's also possible to pick you up at the airport.
Payment: You can send the whole payment for workshops and program to our account. That will secure your spot for the event. Send the payment to the account, IBAN: CZ5561000000001024925133. Variable symbol 2605 and your name in the message. Or you can send the payment to paypal marek.petracek8@gmail.com. 100 Euro for food and accommodation will be paid at the arrival.
Cancellation terms: If you cancel more than 20 days before the event, we will refund you the whole amount -200 CZK (8 Euro) cancellation fee. If you cancel less than 20 days before the event, there is no refund possible. But you can transfer your payment to another person.
If the event is cancelled because of covid situation, you will get a full refund.